2009-02-01 Novapix new look

To celebrate 2009 proclaimed as the International Year of Astronomy, Novapix photo library is happy to offer you a new website. With larger images, a full text search, a selection ...
2009-01-30 The great Orion nebula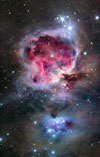 Roth Ritter has just completed this gorgeous 48 hours exposure mosaic of the Orion nebula. At a distance of 1500 light years, the Orion nebula is the nearest star-forming region ...